Click here to check out our 2019 Season Events.
Oceanside Meadows Institute for the Arts and Sciences' home base is the restored 1820′s timber framed barn on the 200 acre preserve of Oceanside Meadows Inn in Prospect Harbor, Maine. The Institute was established by inn owners Ben and Sonja Walter-Sundaram with a goal of supporting the advancement of the arts and sciences by providing easier access for all, encouraging research, and promoting education.
The historic barn was restored in the spring of 1998, transformed into a wonderful space for concerts, lectures and seminars which are held throughout the summer season. Some of the previous summer highlights included a week seminar lecture series with Dr. Alan Hale (co-discoverer of comet Hale-Bopp) and astronomer Gary Becker; a lecture from Dr. David Wingate an ornithologist of world renown and a magnificent evening of music with Opera Maine.
The Astronomy seminar series attracted class members from as far away as the United Kingdom, with studies covering the Earth, the Moon, and the solar system, then expanded to the limits of our Milky Way Galaxy.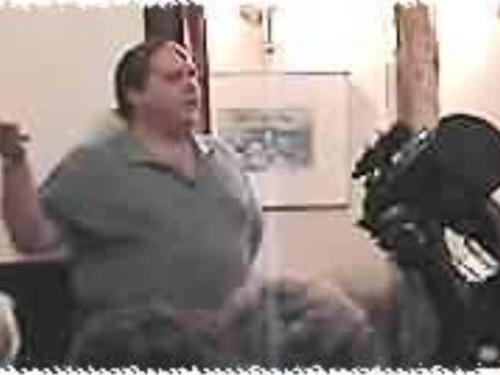 Astronomy Under Schoodic Skies was designed for active participation and students had the opportunity of operating a telescope in the inn's gardens and also accessed telescopes using the internet. There were thought games and experiments, all were challenged to probe, investigate, manipulate, question the universe in which we live. Presentations were held in the mornings with afternoons and early evenings left free to explore our wonderful Schoodic Peninsula.
Dr. Alan Hale gave an evening lecture to which all the local community were invited, filling the restored barn to capacity for what was the first public lecture held under it's magnificent timbered roof since it was built over 175 years ago. It was a thrilling moment for Ben and Sonja Walter-Sundaram, to see their dreams of creating an arts and science center become a reality; a great beginning for a season of events that brought capacity crowds. Seeing and hearing Dr. Hales description of the Hubbell telescope's "Deep Field" image of galaxies billions of light years away brought home the wonder of the universe and the importance of preservation of our planet. Good planets are indeed hard to find!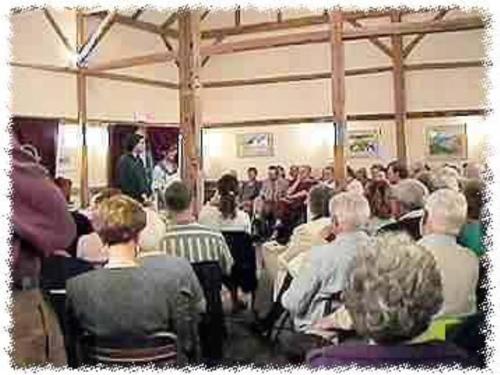 An important part of the mission of the Arts and Science center is to provide access to such events as the Astronomy seminar week, to some students that may not have the means to meet the course fees. To this end we have developed an internship program whereby members of our local community can help us with projects such as developing interpretative trails on our 200 acre preserve and other programs that help build the future of the Arts and Science center. In our first year we were glad to be joined by two interns, one a brilliant young astronomer who attends one of our local grammar schools and another local resident of our community. If you are interested in the internship programs please contact us for more information.
Many free science lectures are also held at the institute, largely focusing on the environment and its preservation. Dr. David Wingate's lecture in the fall of 1998 presented the extraordinary story of the restoration of Non Such Island in Bermuda into an island museum devoid of introduced species. Dr. Wingate's work has resulted in the successful re-creation of the natural habitat found across Bermuda before man's arrival. The restoration of Non Such Island has seen the successful re-introduction of the Yellow Crowned Night Heron, believed to be a close relative of a Heron species once found in Bermuda but long extinct. The Bermuda Storm Petrel or Cahow, once thought to be extinct now colonizes islands near to Non-Such; housed in ground nests designed and built by Dr. Wingate, a remarkable story of conservation in action.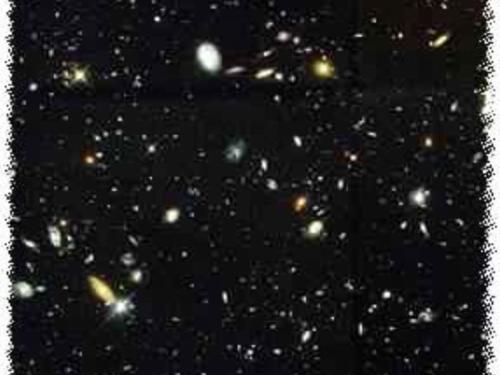 Opera Maine brought a magnificent evening of Opera to the Institute at the height of the summer in 1998, and a capacity crowd. The evening started with a reception with fine Bartlett Wines, which were generously donated and served by Kathy Bartlett of the local award winning winery. Hors-d'oeuvre's were prepared by Sonja Sundaram and donated by Oceanside Meadows Inn.
Opera Maine's superb performance included Lee Hoiby's "Bon Appetit" and Menotti's "The Telephone". Opera Maine in conjunction with the Institute donated an additional afternoon performance of "The Telephone" specifically for children in the area which was a great success. The children's concert brought Opera to both the ears of many local children and to the hall for the first time.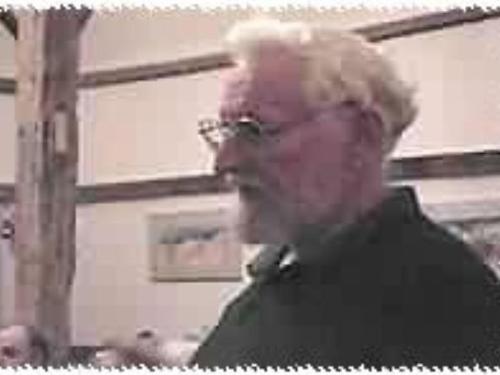 1999 brought a full season of events including several science lectures that included Hope Douglas a Wildlife Rehabilitator who was joined by a Great Horned Owl a Red Tailed Hawk and other birds that she had rescued. Hope Douglas spoke to children from both the Winter Harbor and Gouldboro Grammar Schools at the Innstitute about her work's 67% success rate in returning injured birds to their natural habitat. Glen Mittlehauser spoke on Harlequin Ducks on the Maine Coast which he is studying as part of his masters program at College of the Atlantic, giving us great insight into local island life of these fascinating birds.
Throughout the summer 1999 we were blessed again with a series of concerts from Opera Maine that brought six wonderful concerts, together with tremendous performances from the a-cappella group Impromptu! and pianist Paul Sullivan who played to the sound of the surf crashing our our beach just a few yard away from the hall. Myriads of magical evenings have now passed many of which are recorded in our archive of events which can be seen here.