2018 Inn Events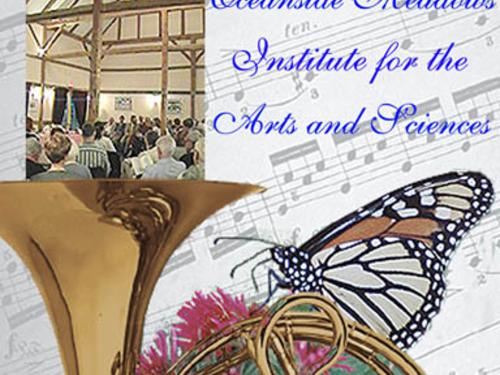 Dear Friends, We hope you are enjoying the wonderful summer season. For our new patrons and visitors to the area, the Innstitutes' home base is the restored 1820's timber framed barn on the 200 acre preserve at Oceanside Meadows Inn in Prospect Harbor, Maine. The Innstitute was established by Ben and Sonja Walter-Sundaram with the goal of supporting the arts and sciences, encouraging research and development, and offering opportunities for learning. Our daughter Kalyani (now 10), who loves reading, acting, piano, swimming and exploring nature with her big brother, Kieran (now 16) a budding scientist and artist, look forward to welcoming you to our summer season of events on Schoodic Peninsula.
Thursday, July 12th at 7:30 pm Pianist, Maria Asteriadou, and violinist, Kurt Nikkanen.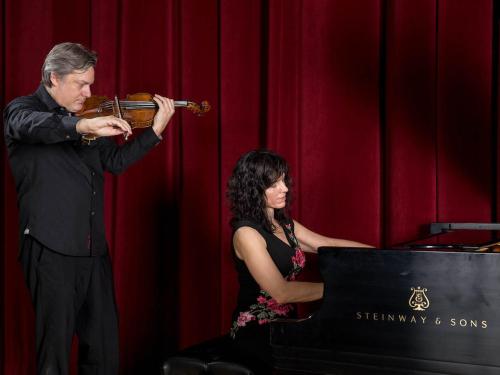 Thursday, July 12th at 7:30 pm We are thrilled to welcome pianist, Maria Asteriadou, and violinist, Kurt Nikkanen. Heralded as "an artist with intense personality, virtuosic flair, unusual poise and intimate contact with style" by The New York Times, Greek pianist Maria Asteriadou is an acclaimed soloist and chamber musician presenting music ranging from Baroque to the present day. Her performances have taken her around the globe, appearing in recitals, and as soloist with orchestra in major concert halls throughout the United States, South America, Canada and Europe. She has performed with the Moscow Radio Symphony, Academy of Saint Martin in the Fields, Orpheus Chamber Orchestra, the National Symphony of Costa Rica, the Stuttgart Kamerata and many other orchestras. Mr. Nikkanen regularly receives invitations from leading orchestras and presenters in the USA and Europe and has toured Japan and the Far East. He has worked with many of the world's most renowned conductors, including Hirokami, Jarvi, Kreizberg, Fischer, Litton, and Nelsons. In North America he has appeared with the symphonies of Dallas, Saint Louis, and Detroit, the Minnesota Orchestra, San Francisco Symphony, Los Angeles Philharmonic and Cleveland Orchestra and many other across the globe. Join us for whatpromises to be an extroadinary evening of music in our timber framed hall. Reservations recommended. Tickets $10 in advance, $12 at the door. Tel: (207) 963 5557
Thursday, July 19th at 7:30 pm Meet Maine's "Extreme Survivors"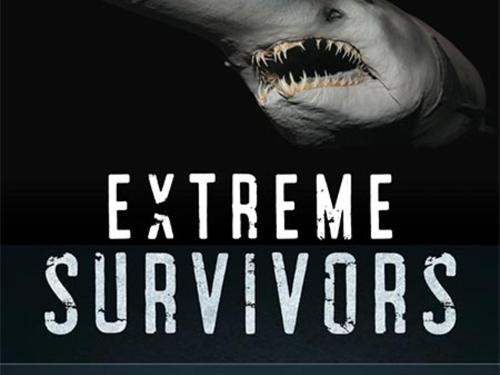 Thursday, July 19th at 7:30 pm Meet Maine's "Extreme Survivors" with award-winning author Kimberley Ridley Horseshoe Crabs and Water Bears and Comb Jellies—Oh My! What do these strange creatures have in common? They are all "extreme survivors," animals that still resemble their prehistoric ancestors from hundreds of millions of years ago.
These and other oddballs of evolution are the subjects of Extreme Survivors: Animals That Time Forgot, a new nonfiction children's book by award-winning science writer and author Kimberly Ridley. She will share stories of encounters with the amazing Maine animals and ecosystems that inspire her books. Ms. Ridley is an award-winning author of nonfiction books that invite children and their grown-ups to explore the real-world magic and mystery in their own backyards. Her joy is sharing her love of nature and writing with kids through her books and school visits. Kimberly's picture books, The Secret Pool (Kirkus starred review) and The Secret Bay, have received honors including Riverby Awards from the John Burroughs Association for "outstanding natural history books for young people." An essayist and former magazine editor, Kimberly has written for publications including The Boston Globe and the Christian Science Monitor, and is a contributing editor to Downeast Magazine. Admission is free, reservations strongly recommended.
Thursday, July 26th 7:30 p.m. Richard Hsu, violin, and Kevin Morse classical guitar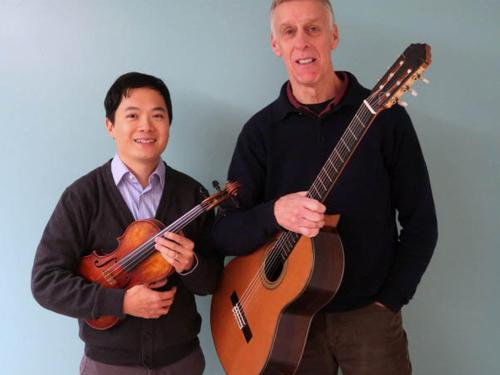 Thursday, July 26th 7:30 p.m. We gladly welcome Richard Hsu, violin, and Kevin Morse. Mr. Hsu is an active soloist and chamber musician. Richard has performed with Orchestra of St. Luke's, Clarion Society, Early Music New York, New York State Baroque Ensemble, American Classical Orchestra, and Concert Royal. He was formerly Associate Concertmaster of the Charleston Symphony Orchestra. He performed as violin soloist and Concertmaster with the Moscow Ballet at Spoleto Festival USA. He holds a performer diploma and bachelor's degree in Violin Performance from the Indiana University School of Music. He furthered his studies at Manhattan School of Music, specializing in orchestral performance. Richard has recently performed at Burnt Cove Church in Stonington, Eagle Hill Institute in Steuben, and with the Bagaduce Chorale. He currently teaches violin and chamber music in Ellsworth and Bangor. He performs on period instruments with his wife Heidi in BOOM, the Baroque Orchestra of Maine. He will be joined by Kevin Morse on classical
Thursday, August 16th, 7:30 p.m. Join us for the Gala Concert for the Winter Harbor Music Festival.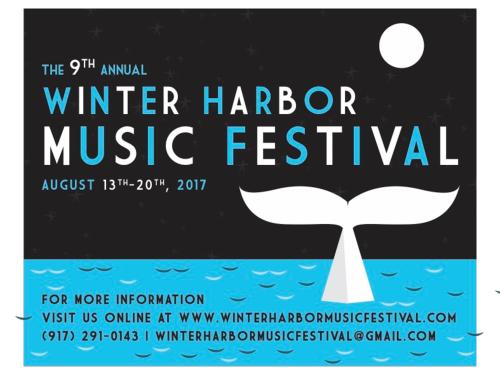 Thursday, August 16th, 7:30 p.m. Join us for the Gala Concert for the Winter Harbor Music Festival. The Festival runs the first two weeks of August and aims to fuse students, amateurs and professionals in performance. Their annual festival presents performances during the second week of August at our inn as well as Hammond Hall where they will be inaugurating their Community Opera program this season. This year's program will feature returning artists such as Artistic Director, Deirdre McArdle, Executive Director, Deiran Manning, violinists, Anatole Wieck, pianist, Sasha Beresovsky and cellist, Braden McConnell, as well as additional members of WHMF faculty and participants. The evening of music will span the musical spectrum with works by Beethoven, Brahms, Briccialdi and more. Tickets are $10 in advance $12 at the door. Reservations strongly recommended.
Wednesday, August 22nd, 7:30 p.m. Lincoln Paine - "Down East: An Illustrated History of Maritime Maine"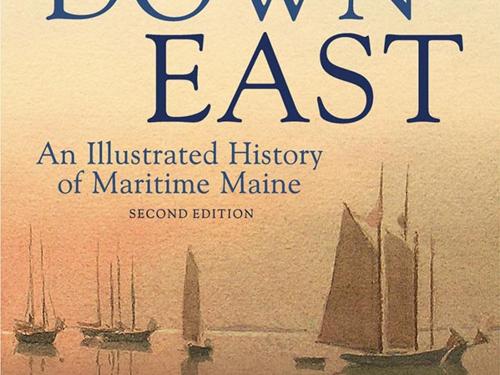 Wednesday, August 22nd, 7:30 p.m. Lincoln Paine will present his new book "Down East: An Illustrated History of Maritime Maine" together with a wondeful slide presentation. The new edition is packed with meticulously captioned photos, paintings, maps and illustrations, all of which complement Paine's text. The original edition, which was published in 2000, was reviewed by Walter Cronkite, who wrote that "Paine's economy of phrase and clarity of purpose make this book a delight for anyone curious about the past or interested in the future of …Maine." Paine has organized "Down East" into 11 chapters and a coda ("A Sense of Place") that range chronologically from early Native American travel and fishing to pre-Plymouth European settlements, wars, international trade, shipbuilding, boom-and-bust fisheries, immigrant quarrymen, quick-lime production, yachting, and modern port facilities. Paine is also the author of "The Sea and Civilization: A Maritime History of the World" (2013), as well as more than 100 articles, reviews and lectures on maritime history. Paine's talk and book signing are free, with all donations going to support Gouldsboro Historical Society. Reservations are strongly recommended.
Thursday, August 30th, 7:30 p.m. Jeff Mitchell, and local pianist, Deiran Manning
Thursday, August 30th, 7:30 p.m. Jeff Mitchell, and local pianist, Deiran Manning will present a recital of works by women composers from the 18th Century to the present day. A native of Atlanta, GA, Jeff Mitchell has enjoyed a varied career as arts administrator, artist manager and flutist. He has performed in Zankel Hall at Carnegie Hall, Kaufman Music Center and Symphony Space in New York City and has presented recitals for the Atlanta Flute Club, Bands of America Summer Symposium and performed on several occasions with internationally renowned mezzo-soprano Barbara Conrad. Jeff earned his Bachelor of Music degree from the University of Georgia and Master of Music degree from Yale University where he was also a fellow at the Norfolk Chamber Music Festival. He won first prizes in the Atlanta Flute Club Young Artist Competition, the Yamaha Young Performing Artist Award. Pianist, Deiran Manning, returns this season in collaboration with Mr. Mitchell. Deiran has given performances across the United States, Ireland, England, France and Italy at notable venues such as Merkin Concert Hall, Weil Recital Hall at Carnegie, the National Concert Hall in Dublin and the New York City Mayor's residence, Gracie mansion. Originally a Maine native, Deiran earned his undergraduate and masters degree from Indiana Universities' Jacobs School of Music under the tutelage of Edmund Battersby, Edward Auer and Karen Shaw. Recently, Deiran completed a year program at New York University where he taught as an Adjunct Professor of Piano and worked with pianist Jeffery Swann. Notable awards include; Stanza Governor's Prize in Composition, LISSMA International Piano Competition, Children's Foundation for the Arts, and the Ira Gershwin award. Tickets $12 in advance and $15 at the door. Reservations recommended.